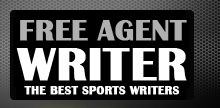 Yankee Addicts
Categories
Featured Sponsors
News published by
April 14, 2011
The Elite 8: Eight Late-Round and Undrafted Players Who Have Made a Big Impact for the Cleveland Browns Much is made about the importance of drafting successfully in the first ...
April 11, 2011
Since the Cleveland Browns returned to the NFL in 1999, some analysts and fans have likened their quarterback situation to a revolving door. I think that's misleading. Why? A revolving ...
January 22, 2011
I went to bed on Thursday night with a pit in my stomach. Not because of the delicious burger and hot dog I ate at Steak and Shake but rather ...
January 12, 2011
Although nothing is set in stone, the vast majority of media reports are claiming that the Cleveland Browns are extremely close to hiring Pat Shurmur as head coach and that ...
January 10, 2011
As a diehard football fan, I always have mixed feelings at the start of the playoffs. Nothing beats the thrill of elimination games and the epic performances that tend to ...
January 6, 2011
Mike Holmgren and those who support Eric Mangini's firing, don't have to look very far to figure out why Cleveland will be searching for its sixth coach in the past 13 years. ...