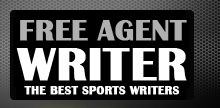 Yankee Addicts
Categories
Featured Sponsors
News published by
March 28, 2011
To say the Patriots 50th season in existence was one of change is a vast understatement. A change of the guard began in Foxboro in the front office and on ...
January 18, 2011
Yes, the Patriots got manhandled by the New York Jets in the AFC playoffs. They are one-and-done for the second year in a row. No Super Bowl for season No. 7. Does ...
January 3, 2011
Former first-round pick Laurence Maroney was traded away. Pro Bowler Fred Taylor is now designated as his backup. To whom you ask? His name is BenJarvus Green-Ellis, or the "Law ...
December 31, 2010
Patriots Nation was scratching it's collective head when the New England war room chose Rutger's CB Devin McCourty with the 27th pick in the first round.  The questions were many: Why ...
December 27, 2010
Are you happy? You pissed off the man with the flowing locks. Now Tom Brady is going to destroy you! If you thought 2007 was an assault of biblical proportions, ...
December 18, 2010
  In a season where New England's high flying offense gets most of the pub, their defensive stalwart is having an all pro season.   Third year linebacker and team captain, Jerod Mayo ...
December 2, 2010
Every time I see Zoltan Mesko line up for a punt or Julian Edelman catch a pass, I ask myself why aren't these numbers retired or at least taken out ...
October 17, 2010
Turn Over a New Leaf: To begin again, fresh; to reform and begin again.   After Randy Moss was shipped to Minnesota, there was now a gaping a hole in the Patriots ...
September 22, 2010
He doesn't have the star power of Randy Moss. He isn't the cult hero like Wes Welker. He doesn't have the physical gifts like his cousin, Marshall. He doesn't look for accolades or ...
September 14, 2010
Remember when you were little and you couldn't wait to run downstairs on Christmas morning and see all your toys? I bet Tom Brady feels like that every game day morning. Look ...