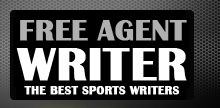 Yankee Addicts
Categories
Featured Sponsors
News published by
March 3, 2011
Yes, it's finally come. The day the sky falls on the NFL if a deal is not struck by midnight tonight. Tomorrow we will most likely wake up to a ...
February 16, 2011
The Bengals are yet again on the verge of utter destruction as a franchise. The fans are in an uproar, and with the recent success of the Reds, the people ...
February 15, 2011
As I mentioned in an earlier article I am beginning to start my assessments on the top college prospects the Bengals might be looking at in the first ...
February 14, 2011
I have avoided talking about the collective bargaining agreement for as long as I could, but it now appears to be time to explain the situation, the deadlines, and the ...
February 14, 2011
It has been one of the worst off seasons in recent Bengals history, and the news got worse yesterday as Carson Palmer packed up his stuff, put his ...