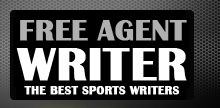 Yankee Addicts
Categories
Featured Sponsors
News published by
April 14, 2010
Americans are well aware of the legal standard "innocent until proven guilty." It is a phrase that epitomizes our sense of fairness, our creed of being a nation of laws, ...
April 12, 2010
This is quite possibly the worst NFL trade not involving the Raiders in league history. The Pittsburgh Steelers have traded wide receiver and Super Bowl XLIII MVP Santonio Holmes to the ...
April 11, 2010
On Monday, Ocmulgee (Ga.) Judicial Circuit District Attorney Fred Bright is expected to announce that Pittsburgh Steelers quarterback Ben Roethlisberger will not be charged on allegations that he sexually ...