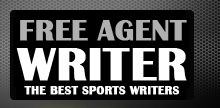 Yankee Addicts
Categories
Featured Sponsors
News published by
August 28, 2010
Welcome to Miami Dolphins fandom—a wonderful, terrible, beautiful, disgusting place where things are not always as they seem, do not always appear as advertised, and often make little ...
August 15, 2010
The Dolphins looked less-than-sharp on their first preseason outing versus Tampa Bay in Miami. Just prior to Saturday night's 7:00 pm kickoff, the clouds over Sun Life Stadium opened up ...
August 6, 2010
With seven full days of the Miami Dolphins' 2010 training camp on the books, there has been much to process and absorb in the way of new information. Fans are ...
August 2, 2010
As the 2010 regular season draws ever-nearer, it becomes increasingly evident that the excitement and expectation surrounding Brandon Marshall is only going to intensify. With more than five camp practices under ...
July 31, 2010
I am unsure as to why anyone ever thought Pat White could be a successful NFL quarterback. He had an impressive college career, but so did Ryan Leaf. ...
July 31, 2010
Dolphins fans everywhere had a definite bounce to their step on Friday as the eagerly-anticipated first day of camp workouts finally arrived. The summer lull in football news has finally come ...
July 27, 2010
The end of July is upon us, and NFL training camps are commencing across the league. It is a time of great interest for fans, as a great many ...
July 23, 2010
Just a week after being formally charged for felonious aggravated battery, it seems Phillip Merling has sustained a severe tear to his Achilles tendon. According to Armando Salguero of ...
July 20, 2010
We've all seen the Miami Dolphins' front office take a lot of heat from the public this offseason. With four Dolphins players already having been arrested, the team still has ...
July 19, 2010
After what seems like a lifetime of receiving little or no love from the NFL's flagship website, basically an online extension of NFL Network, the Dolphins have finally ...