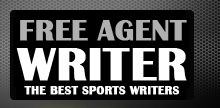 Yankee Addicts
Categories
Featured Sponsors
News published by
September 3, 2010
Well it's finally happened, the much-maligned Defensive Back for the Kansas City Chiefs has finally signed his tender.  According to Jason La Canfora In a relatively quiet offseason, the only ...
August 28, 2010
Just got done watching the game on NFLN and let me tell you I came away impressed.  Another thing I'd like to say, I hate NFLN.  I'm in the middle ...
August 14, 2010
Well it had its ups and downs, but if the first Preseason game told us anything it is we need to improve.  I saw a lot of the same mistakes ...
May 17, 2010
Last season wasn't one of our better years.  WRs couldn't catch, defense didn't seem like they could stop anybody, the offense seemed anemic, etc.  Our QB did not seem like ...
April 1, 2010
Once upon a time we had a good defense, and we struck fear into opposing offenses on Sundays. But its been a decade since then and our defense has ...