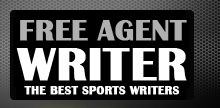 Yankee Addicts
Categories
Featured Sponsors
News published by
March 3, 2011
I hate the offseason.  I know how important the combine is in regards to scouting, but I love the guts and glory of the regular and post season. I did manage, ...
February 11, 2011
Hey there, clear-headed Dallas Cowboys compadres.  I would like to commiserate about the collective fanbase of the only team to sport the logo of a superhero (Captain America's star).  Okay, I ...
February 10, 2011
If I were a Klingon – and believe me, I sure as hell feel like one right now – I'd have Batleth swinging at every person of note in Dallas ...
February 9, 2011
Bless my big blue stars, silver-headed Cowboys fans, the foul Pittsburgh Steelers lost a Super Bowl in our backyard. And wouldn't you know it, the man who planted his hammer firmly ...
January 11, 2011
There is some sort of weird karma going on between Arlington, Texas and Foxborough, Mass. In my first article, I expressed my view that Jason Garrett has much in common ...
December 23, 2010
I have gone where angels fear to tread: the Brady/Manning debate.  I have now been witness to one of the most vicious and vociferous debates in all of sports ...
December 11, 2010
Peyton Manning.  Tom Brady.  Who is better?  The question is as weighty and confounding as the riddle of the sphinx.  Google "Peyton Manning" and you get a plethora of awards he ...
December 6, 2010
Seattle Seahawks WR Mike Williams is now not likely to play against San Francisco next Sunday due to a sprained left ankle he suffered in his effort to assist the ...
December 6, 2010
The Dallas Cowboys played one heck of game beating the Indianapolis Colt, but no Cowboy played better than Sean Lee.  The whole team showed up.  The Cowboys had possession for 40 ...
December 3, 2010
According to NFL.com wire reports and the Associated Press, Jerry Jones has confirmed that, due to a calf injury suffered in last week's game against New Orleans, Marion Barber will ...