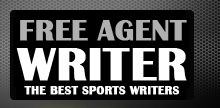 Yankee Addicts
Categories
Featured Sponsors
News published by
September 24, 2013
If the Washington Redskins expect anything but another loss after a discouraging 0-3 start to this season, four players need to give "game-ball-like" performances in Week 4. The team travels ...
July 27, 2013
Former Washington Redskins cornerback Darrell Green has come forth to defend comments made July 23 regarding the team name and statements he made in a radio interview earlier this week ...
June 28, 2013
In all likelihood, the Washington Redskins' second-year quarterback Robert Griffin III and 16-year NFL veteran linebacker London Fletcher will begin the 2013 NFL season as the teams co-captains. Under head coach ...
June 26, 2013
Prior to the start of the Washington Redskins season, we tend to hear how veterans take rookies under their wing and show them the ropes—educating them on how things are ...
June 22, 2013
After 38 years as a Washington Redskins broadcaster, NFL Hall of Famer Sam Huff has decided to officially retire from full-time duties in the broadcast booth. His 14-year storied NFL ...
June 15, 2013
The Washington Redskins name-game and ongoing "controversy" resurfaces time and again, year after year, and the team name "Redskins" has been debated for decades. Solution. Just call the team the "Skins."Each ...
May 31, 2013
Washington Redskins quarterback Robert Griffin III has decided to officially call the Washington, D.C. suburbs home after purchasing a $2.5 million home in the outlying suburbs in Virginia, according to ...
May 21, 2013
Of all the players and teams in the NFL, video game giant Electronic Arts (EA) Sports unveiled their latest version of sports gaming May 21 featuring Robert Griffin III. In ...
May 12, 2013
One of the Washington Redskins' objectives prior to the 2013 NFL draft was to add depth to the secondary, and the team certainly did not disappoint—selecting cornerback David Amerson and ...
April 23, 2013
After much criticism and complaints from players, coaches and just about everybody, officials with the Washington Redskins announced Tuesday plans to redo the field at FedEx field—literally from the ground ...