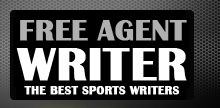 Yankee Addicts
Categories
Featured Sponsors
News published by
December 24, 2010
It's Week 16 and who would have thought the Oakland Raiders would be in playoff contention. That being said, this is a must win game. The first and most important is the ...
April 10, 2010
Who is, and will be the better pro quarterback? In this year's draft, there are two QBs that will be drafted in the first round. They are Sam Bradford ...
April 10, 2010
Who is the best quarterback? It's a great question with a lot of differing opinions, but one thing is consistent—they always bring up the same names: Manning (Peyton, that ...