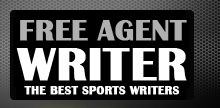 Yankee Addicts
Categories
Featured Sponsors
News published by
January 8, 2011
It seems like August 4, 2010 was only yesterday and I was standing on the sidelines of the opening practice of training camp in Allen Park, Michigan, as another hope-filled ...
December 28, 2010
The Detroit Lions have done the seemingly unthinkable by winning three straight games, and two consecutively on the road in the "southern peninsula."  Taking the "road field" advantage in southern ...
September 30, 2010
For all of the things the 2010 Detroit Lions are not (namely, a complete football team), there have been occasional moments of serendipity for die-hard Lions fans, those adept at ...
September 12, 2010
Back to reality, Lions fans.  Man, does this suck. Regardless the approximate 80,000 words I have offered since mid-June detailing how the Detroit Lions offseason acquisitions would produce a plethora of ...
September 10, 2010
There are times in life when we allow our personal bias to far override the good senses of something that could be most promising and beneficial.  The struggle in life ...
August 19, 2010
On the afternoon of Thursday, August 19, 2010, Bleacher Report Detroit Lions Featured Columnist and friend, Ali Hammoud, posed an interesting scenario in his recent article, "NFL Preseason 2010: An ...
August 17, 2010
Yesterday afternoon while on an overnight "virgin" family excursion to Sault Ste. Marie and the Straits area of Saint Ignace and Mackinaw City, Mi., I was blessed to find the ...
August 5, 2010
All I could do was smile. When I pulled into the parking area across the street from the Detroit Lions practice facility in Allen Park, Michigan on the morning of Wednesday, ...
August 3, 2010
In an interview following afternoon practice on Monday, August 2, 2010, with Terry Foster and Darren McCarty on The Ticket 97.1 FM, Foster asked Detroit Lions rookie running back ...
August 2, 2010
  In my recent article, HäMMëR's Top 10 Personnel Moves by Detroit Lions GM Martin Mayhew , Lions Community members and I discussed one of my omissions: the Roy Williams to ...