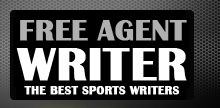 Yankee Addicts
Categories
Featured Sponsors
News published by
August 14, 2011
The Green Bay Packers' most hyped rookie receiver Randall Cobb worked the slot beautifully against the Browns in Cleveland on Saturday night. His route-running was a bit rusty on his ...
July 30, 2011
For many fans, the NFL season ends when their teams are eliminated from playoff contention, and they are forced to find other things to devote their passion to. Some look ...
July 10, 2011
While the Green Bay Packers have been one of the proudest franchises in the history of the NFL, that doesn't mean there weren't some rough times when it seemed like the "G" ...
June 24, 2011
The Green Bay Packers had a deep and complete team last season that carried them to the franchise's first championship in over decade. Yes, the Pack were led by an ...
April 26, 2011
The Packers seem to be best known across the nation for their offense, specifically their passing attack led by star quarterback Aaron Rodgers. However, their pass defense was also fifth ...
April 23, 2011
Truthfully, the Green Bay Packers dynamic offense is loaded with talent and difficult to rank with certainty. What makes it an even more impossible task is the fact that Jermichael ...
April 22, 2011
The Green Bay Packers were plastered on every piece of sports news from the smallest newspaper to Sports Illustrated and ESPN in the days following the Super Bowl. Of course Super ...
April 21, 2011
The Super Bowl XLV Champion Green Bay Packers will begin their title defense against the Super Bowl XLIV Champion New Orleans Saints on Thursday, September 8, 2011. The game will kick ...
April 14, 2011
Fresh off an injury-ravaged season and their Super Bowl XLV victory over the Pittsburgh Steelers, the Green Bay Packers appear to have an easier path to accomplish a repeat in ...
April 8, 2011
Almost everyone expects Packers inside linebacker Nick Barnett to be on his way out of Titletown because of recent transactions that have pointed to his likely departure. While Barnett spent the ...