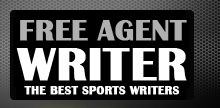 Yankee Addicts
Categories
Featured Sponsors
News published by
May 7, 2010
Pundits, Fans, Colleagues Appalled, But Not Shocked, Over Arrest The day after.  That is when the perspective starts to kick in on situations such as the current one Lawrence ...
May 6, 2010
Unproven Players Being Asked to Play Integral Roles The Jets' recent draft consisted of four players: a cornerback, an offensive lineman, a running back and a fullback. Four ...
May 5, 2010
Feagles' Retirement Causes Rippling Effect Of Change Rookie mini-camp was especially important to Giants' special teams coach Tom Quinn (above). He doesn't normally draw the attention of the ...
May 5, 2010
NFL's "Good Guy" May Get Long-Awaited Distinction The NFL has had some great punters. In the 1970's there was Raiders' Ray Guy, who could boot the ball to the moon. ...
May 5, 2010
2-Day Camp Gives Little Indication of What Lies Ahead   There has been quite a bit bit of grumbling on the net about the Giants' latest draft class being a ...
May 5, 2010
Quarterbacks Best Beware as Giants Return to Pressure Package It's only been a few rookie mini-camp practices, but so far, Perry Fewell is providing the push the Giants defense needs. ...
May 5, 2010
Commish Encourages Fan Participation in All Forms Commissioner Roger Goodell held an Q&A with representatives from the popular blog mill SB Nation on the final day of the NFL Draft ...
May 5, 2010
Mark Sanchez has plenty of receivers to choose from. One might think the Jets are all about defense because Rex Ryan, the defensive mastermind, is their ...
March 29, 2010
I don't usually get involved with Hall-of-Fame campaigns, but recently I have become fed-up with the continual exclusion of Joe Klecko's name from the Pro Football Hall-of-Fame ballot. ...
March 10, 2010
Again, I am embroiled with other pundits across the Internet and in barrooms over the value of rookies. This year, the Giants will be looking for an inside linebacker in ...