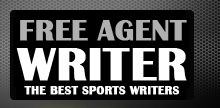 Yankee Addicts
Categories
Featured Sponsors
News published by
August 27, 2010
My apologies for my immature article title, but the adolescent in me still likes to add the word "master" in front of anyone with the last name Tate. My lame joke ...
August 25, 2010
There's nothing I love more than waking up to shocking fantasy news. This little passion of ours can be the bearer of great news or the harbinger of a season ...
July 11, 2010
Mike Bell's bags are packed and he's headed to the City of Brotherly Love. This has to be the season that we get more clarity from the Saints RBs, right? Not ...
May 27, 2010
When it comes to fantasy football, I'm one of the most aggressive drafters you'll find. Now we all know that late in our drafts we want to find that hidden ...
May 25, 2010
I was recently asked if Ricky Williams is being overlooked this year. And my answer is yes. In my World Championships of Fantasy Football Draft that I just finished, ...
May 24, 2010
Here's a fantasy football sneaky sleeper I really like: Chargers WR Malcolm Floyd. With two DUI convictions in two years, Vincent Jackson will likely be suspended at some point this summer. "V-Jax" ...
May 21, 2010
Poised to for another breakout season, Antonio Bryant is going to be a great value in this year's fantasy football drafts. Here's round nine of my World Championships of Fantasy Football ...
May 19, 2010
Tuesday, 5/18 Draft done at MockDraftCentral.com—16 rounds, picked 8th You can find the full draft results here   I omitted my picks in the 15th and 16th round as I took ...
May 19, 2010
ROUND 8 1. Bills Are Back - Kenny Britt, Ten WR 2. EarlyBird - Owen Daniels, Hou TE 3. purestrength3 - Clinton Portis, Was RB 4. Ficitional Thugs - Brandon Jacobs, NYG RB 5. ...
May 18, 2010
Mock drafts are a tremendous way to prepare for your fantasy football draft. It's only May, but so what?! I'm ready to draft now! Before I get ahead of myself, I want ...