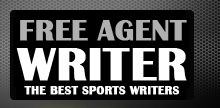 Yankee Addicts
Categories
Featured Sponsors
News published by
March 31, 2011
I know this subject has been done to death, however, I wanted to put my two cents in on the Bears possible picks at No. 29 overall anyway. I made ...
February 6, 2011
Radio station 670 WSCR "The Score" overnight host (and Associated Press reporter) Lester Grobstein announced that Richard Dent, aka "The Colonel," was elected to the Pro Football Hall of Fame ...
April 25, 2010
Now that the Bears are through with their 2010 draft, many will now begin to grade, and critique it.  Angelo cannot afford to sit back, and admire his work. Now ...
April 12, 2010
This is an offseason that just keeps giving storyline after storyline.  Will Martz and Cutler find a connection, and live happily ever after? (organ note) Daaaaaaaaaaah!  Will the young receiver group ...