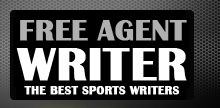 Yankee Addicts
Categories
Featured Sponsors
News published by
August 20, 2015
Though the NFL regular season is still three weeks away, some teams—and fans—are already starting to feel some uneasiness. Whether from preseason Week 1 games or off-the-field injuries and incidents, several ...
August 8, 2015
The NFC East has been one of the most successful divisions in the NFL since 1970, with 20 NFC championships and 12 Super Bowl titles. The Eagles, Cowboys, Giants and ...
August 7, 2015
The Seattle Seahawks wasted little time in their efforts to get back to a third-straight Super Bowl by trading for Pro Bowl tight end Jimmy Graham on the first day ...
August 5, 2015
The Denver Broncos wrapped up their fifth day of training camp at the UCHealth Training Center on Tuesday, and things are heating up in the Mile High City. Many of the veterans ...