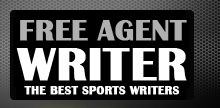 Yankee Addicts
Categories
Featured Sponsors
News published by
April 26, 2011
As we head into the final days before the 2011 draft, NFL teams are looking to make moves in order to secure themselves the best players available. Whether it's looking to ...
April 12, 2011
Ladies and Gentlemen, boys and girls, children of all ages!  Bleacher Report is here to give you wall-to-wall analysis of the 2011 NFL Draft.  We're not here to discuss labor ...
August 20, 2010
Take a look at this picture above, and think about the fact that this may have been the only highlight for the Falcons' first-string unit against the perennial NFL superpower ...
August 14, 2010
Welcome Ladies and Gentlemen to The Morning After, an instant post-game analysis of all Atlanta Falcons games, from pre-season to post-season.Last night, before a crowd of 65,726 at the Georgia ...
August 9, 2010
There are two major goals for every NFL team during training camp. Get your offense, defense, and special teams in rhythm; and stay healthy. Up until now, the Atlanta Falcons were able ...
August 6, 2010
As we are headed closer to preseason games, there are still more battles to determine starting positions throughout the NFC South, home of the Super Bowl Champion New Orleans Saints. While ...
August 3, 2010
Think about the excitement you felt during your first day on a college campus, or your first day at a new job.  There was a fresh breath in the air, ...
July 30, 2010
"Once again it's ON!" Naughty By Nature Falcons fans, it is that time of year again, when two-a-days are the norm, when the search for that next breakout star is as ...
July 10, 2010
As we prepare to go into the 2010 NFL season, we've spent much of this time discussing the players who have been drafted and analyzing the potential battles in training ...
July 3, 2010
While we are still a few weeks away from the start of training camp, I thought it would be a good time to discuss an issue that, while not exactly ...