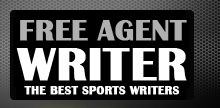 Yankee Addicts
Categories
Featured Sponsors
News published by
May 21, 2013
The 2014 NFL draft reportedly appears to be closing in on a new date.Instead of the final weekend of April, as is typically expected, pro football's draft could be headed ...
May 14, 2013
Jimmy Smith, a former receiver of the Jacksonville Jaguars from 1995 through 2005, has landed himself in prison.Smith is serving six years of jail time, according to Gregg Rosenthal of ...
May 7, 2013
The incredible popularity of Tim Tebow is a double-edged sword right now.One side got him listed as America's No. 1 most influential athlete on Forbes.com. Quick, can you name another ...
May 7, 2013
There will be undrafted rookie free agents that impact as starters in the 2013 NFL season.Recently displays from the production of Stanford receiver Doug Baldwin (Seattle Seahawks) in 2011, as well as ...
April 30, 2013
Teams and fanbases rightfully expect to improve during the NFL draft.Otherwise, why even bother going through such an incredibly deep evaluation, right? And the impact of making correct selections has proven ...
April 13, 2013
Folks, get excited.We're less than two weeks from the 2013 NFL draft and another mock is here to play out the entire slate of Round 1.Given everything that has unfolded ...
April 13, 2013
Beware during the 2013 NFL draft, because landing a prospect that lacks consistent reliability will cost a team in the long run.For the most part, this only applies to Rounds ...
April 6, 2013
Stocks are gaining intrigue as the 2013 NFL draft approaches, because where a player ends up does have a significant impact on the immediate future.It's a two-way street, because one ...
March 30, 2013
"Captivating" is one way to describe the 2013 NFL draft.Because of the breadth of talent that exists within the offensive and defensive lines, this regular season will be emphasized more ...
March 27, 2013
NFL rumors continue to swirl and attract our attention, because free agency will impact pro football's draft even though it remains roughly one month away.Then again, the new league year ...