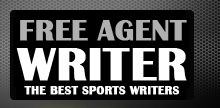 Yankee Addicts
Categories
Featured Sponsors
News published by
October 21, 2014
The New York Jets find themselves in an unfavorable spot as the 2014 NFL season nears the official midway point. At 1-6, the Jets have been virtually eliminated from realistic ...
August 26, 2014
The New York Jets begin the 2014 NFL season with legitimate playoff aspirations but need their defense to improve upon an 11th overall ranking from last season in order for ...
August 19, 2014
New York Jets' training camp has been highlighted by smack talk, personal foul penalties and injuries to half a dozen rookie draft picks. The Jets will be challenged to overcome ...
August 12, 2014
The raging youth movement in New York Jets training camp didn't exactly get off to the explosive start that coaches and executives were hoping for. A decent chunk of the ...
August 5, 2014
As the New York Jets get ready for their first preseason game of 2014, several rookies and camp invitees are preparing to showcase their talents in an effort to increase ...
July 29, 2014
The 2014 NFL season is upon us, which means it's time to assess how certain key players are faring thus far in New York Jets training camp. The Green and ...
July 15, 2014
The New York Jets are less than two weeks away from training camp in Cortland, New York, which means the annual in-house positional battles are about to take flight. General ...
June 28, 2014
The New York Jets were desperate for a wide receiver who possessed game-changing speed in the 2012 NFL draft, prompting former general manager Mike Tannenbaum to pull the trigger on ...
June 17, 2014
As the New York Jets commence their annual mandatory three-day minicamp in Cortland, N.Y., several new faces are now suiting up in green and white. After a surprising 8-8 finish ...
May 27, 2014
After managing a surprising 8-8 record during the 2013 season despite boasting minimal talent on offense, the New York Jets appear ready to take the next leap toward solidifying themselves ...