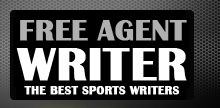 Yankee Addicts
Categories
Featured Sponsors
News published by
July 7, 2010
A week ago, Samuel Ingro put together his a game-by-game prediction of how the Browns would do in the upcoming 2010. http://bleacherreport.com/articles/414137-2010-2011-cleveland-browns-predictions-game-by-game-results A thought occurred to me that he, along ...
July 5, 2010
Right about now, dozens of football experts are busy typing away their annual Season Previews, complete with prognostications telling us their best guess over who will win their divisions, make ...
June 26, 2010
I am a Browns Fan. My girlfrend is a Steelers fan. (Enter joke here, but I've probably heard it already.) We live in the divided world that exists between the Cuyahoga River and ...