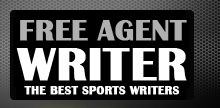 Yankee Addicts
Categories
Featured Sponsors
News published by
December 20, 2010
After 19 seasons, it's all over. With Brett Favre battling a sprained joint in his throwing shoulder, the Vikings declared him inactive for last Monday night's game against the New ...
November 14, 2010
The 2010 NFL season has been full of many surprising teams, good and bad.Some of the good surprises include the 5-3 Tampa Bay Buccaneers, the 4-4 NFC West-leading St. Louis ...
October 28, 2010
Maybe Philadelphia has just been spoiled over the last several years. For the Eagles, it was always certain who would be their quarterback come Sunday: Donovan McNabb. McNabb's performance, health, ...
July 8, 2010
The criteria for this slideshow is pretty simple. Hearing these athletes on television, watching them play, or seeing their jersey/face should make the typical sports fan cringe. Also, having your name associated ...
May 2, 2010
  With the 2010 NFL Draft finally in the books, who came away with the best selections? There is great controversy over most picks in the draft. Although opinions may vary, ...