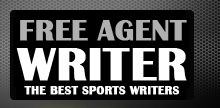 Yankee Addicts
Categories
Featured Sponsors
News published by
March 23, 2011
March Madness is apparently having an effect on everyone—including EA Sports. The creators of the world's most popular NFL video game announced earlier this week that it will hold a ...
February 23, 2011
After losing in the AFC Championship game for the second year in a row, it's hard for the New York Jets and their fan base to move on and focus ...
February 16, 2011
When speaking about his future with the Arizona Cardinals, Larry Fitzgerald has made it clear he wants to stay with the team, but he also wants to be in a ...
February 15, 2011
The New York Jets will be faced with several crucial decisions over the course of this offseason, as many of the team's key pieces are set to become free agents. ...
February 9, 2011
In what seems to have become a tradition for athletes who have won championships, Aaron Rodgers stopped by The Late Show Monday to visit with David Letterman and talk about ...
February 2, 2011
With Tuesday's news that AEG and Farmers Insurance have reached a deal involving naming rights for a proposed NFL stadium in Los Angeles, it means we are one step closer ...
January 25, 2011
With just one game left in this NFL season (well, two if you count the Pro Bowl), the focus is beginning to shift towards free agency and the many rumors ...