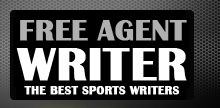 Yankee Addicts
Categories
Featured Sponsors
News published by
September 11, 2011
Bold predictions are just that—BOLD predictions. Every year, I try to run out a list of things that I think will happen that defies common logic. I could "predict" that ...
July 16, 2011
High atop my forested, secluded hillside homestead is a night-time driveway light. To the family, the light is simply a convenience, providing illumination when taking the pooch for a midnight ...
June 19, 2011
Fool me once, shame on you. Fool me twice, shame on me. These days, I'm feeling pretty shameful when it comes to fantasy football options that are uber-talented in super ...
March 12, 2011
Dear NFL owners, What a bunch of cry baby NFL fans we have, huh? They keep whining about furloughs and pay cuts and increasing expenses and other poor people junk. Like any ...
March 4, 2011
It can be nearly impossible to predict what an early-offseason NFL move means with so many possible player moves and the rookie draft still to happen. It is even more ...
January 17, 2011
If you haven't already checked it out, my dynasty debate on the Top 5 running backs for next season has been a huge hit, drawing some very in-depth debate from ...
January 15, 2011
Time to go shopping for the next family car and you've got a $20,000 budget.  After hours of combing the local lots, you have the choice narrowed down to a ...
January 4, 2011
If only fantasy football were more like making a fruitcake or doing the Hokey Pokey. Then, perhaps, I wouldn't feel as though I was sucker-punched by a jackhammer and still gasping ...
December 24, 2010
Christmas and rankings go together like egg and nog. Favorite toy? Time to rank your Tickle-Me Elmos, Furbys and Malibu Barbies. Favorite Christmas song? Silent Night vs. White Christmas vs. Leroy ...
December 19, 2010
If beauty is in the eye of the beholder, fantasy football advice is in the ear of the owner. Ask enough people who you should start or sit any given ...