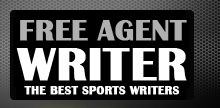 Yankee Addicts
Categories
Featured Sponsors
News published by
August 25, 2010
I know it is way too early to be doing this, but that is why I put window shopping in the title.Depending on how much success new Raiders' QB Jason ...
August 25, 2010
Time and time again homers know no bounds. Statements like this "Brady was mediocre before Moss and Welker" have been driving me crazy the past two days. If Brady was really mediocre ...
August 24, 2010
Lately here on B/R, it seems as though fans of other teams know the Patriots better than Patriot fans themselves. Apparently the window for the Patriots is closed and all ...
August 10, 2010
My view of the Oakland Raiders is like the Titanic: They were once a great team that has sunk to the bottom of the NFL. With the additions that was ...
August 5, 2010
There have been some training camp articles already this year, but none that really went into detail about the players and how they are progressing. Sources: patriots.com/homepage nfl.comBegin Slideshow
June 15, 2010
Over the offseason, I have seen countless articles and comments stating that the Patriots are on the decline, which is a false statement, to say the least. While I'm not ...
June 9, 2010
In this slideshow I will be looking at defensive starting positions in the 3-4 and 4-3 scheme. I will only be doing the cornerbacks, safeties, and linebackers in the 3-4 because ...
June 7, 2010
It's going to be a tough schedule this year and with nothing better to do in the offseason, writing and creating slide shows sure does help past the time. Now ...