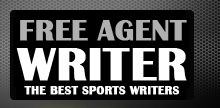 Yankee Addicts
Categories
Featured Sponsors
News published by
July 30, 2013
Fan Name:  Andrew YoungAKA:  TheMadFanaticTwitter:  @TheMadFanaticWebsite:  www.TheMadFanatic.comNotable For:  Music There are Denver Broncos fans, and then there are Denver Broncos super fans. You've heard of them—Barrel Man, Shadd Ring, Chris Hitchcock, James ...
July 23, 2013
The Denver Broncos' players will report to Dove Valley on Wednesday and kickoff 2013 training camp practices Thursday morning.  Going into camp, there will be 90 players on the roster. By the ...
June 18, 2013
Can you hear that?  Those are crickets. Welcome to the NFL offseason in June. We've reached a dead zone in the NFL offseason, as players have a six-week break leading ...
June 8, 2013
Every offseason, veterans suffer injuries and young players emerge as training camp heroes.  But it doesn't take an injury for a young player to step up—youngsters have leapfrogged healthy incumbent ...
May 4, 2013
After selecting seven players in the 2013 NFL draft last weekend, the Denver Broncos went out and signed 16 undrafted free agents.Undrafted rookies are always long shots to make the roster, but ...
March 19, 2013
The Denver Broncos are all but done with free-agent signings, with $8.44 million remaining in salary cap room.  But at least one more position is likely to be addressed before the ...
February 16, 2013
The 2013 free agency signing period will begin at 4:00 PM ET on Tuesday, March 12.  On that day, the Denver Broncos will be busy.The team has a handful of ...
January 30, 2013
On the evening prior to Super Bowl Sunday (February 2nd, 9 p.m. ET on CBS), Alec Baldwin will return to host the second annual "NFL Honors" show, recognizing the top players ...
January 16, 2013
On Tuesday, the San Diego Chargers hired Denver Broncos offensive coordinator Mike McCoy as their next head coach.  Denver has now lost one of their top coordinators, but could it ...
January 16, 2013
On Tuesday, Denver Broncos starting left tackle Ryan Clady withdrew from the 2013 NFL Pro Bowl, the team announced. According to Stuart Zaas of DenverBroncos.com, Clady will miss the game due ...