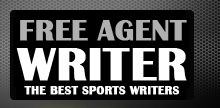 Yankee Addicts
Categories
Featured Sponsors
News published by
November 9, 2010
Tom Cable says Jason Campbell will "probably" start in 13 days when the Raiders travel to face the daunting Pittsburgh Steeler defense. After Bruce Gradkowski was deemed the savior after ...
October 3, 2010
1. There are four Raiders on pace to record 50-plus receptions.  This has not happened since 2002. Those four players were Jerry Rice, Tim Brown, Jerry Porter, and Charlie Garner. The ...
September 8, 2010
It seemed like Tom Cable was just trying to give Stanford Routt some confidence when he hyped up the battle to start at corner. Based on his response, Chris Johnson did not seem ...
August 5, 2010
The Oakland Raiders shocked everyone (even their fans) when they selected Darrius Heyward-Bey No. 7 overall in last year's draft. Heyward-Bey possesses a set of physical skills that compare favorably ...
August 2, 2010
Here's what we know: Jason Campbell Is the Starting QB The staff was probably looking for an excuse to name him the starter as quickly as possible. ...
August 1, 2010
This off-season featured the Raiders releasing fan favorite and former 1000 yard rusher Justin Fargas. Fargas earned the job with hard nosed running despite a lack ...
July 29, 2010
Maybe the biggest surprise release of the 2010 off season was Jaguars DT John Henderson. After being released, speculation emerged that Henderson was washed up and no longer a ...