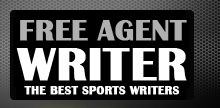 Yankee Addicts
Categories
Featured Sponsors
News published by
July 8, 2014
The Dallas Cowboys have a number of players to watch during training camp as potential sleepers to not only make the roster but also contribute meaningful numbers. Without a particularly deep ...
July 4, 2014
I've been strong in going against the crowd on Dallas Cowboys tight end Jason Witten. I predicted Witten would regress in 2013—coming off a season in which he broke the ...
June 10, 2014
It's really important to not only make predictions, but also to track them, which is what I did with the Dallas Cowboys last year and will continue to do in ...
June 3, 2014
The Cowboys are in the midst of their Organized Team Activities (OTAs), and there's plenty of buzz coming out of Dallas. From linebacker Sean Lee's injury to the progress of the ...
May 14, 2014
The draft is complete, but there are lots of offseason moves left for the Dallas Cowboys. That doesn't mean signing free agents, though. The free-agency barrel is bare, and, although ...
May 11, 2014
The Dallas Cowboys started the 2014 NFL draft with 11 picks, but it's very possible that the top of their draft chart won't change very much. In Notre Dame offensive ...
April 8, 2014
With the 2014 NFL draft just one month away, the rumors and buzz surrounding the Dallas Cowboys and their potential draft-day decisions have run rampant. It's always difficult to determine ...
March 25, 2014
If you ask the Dallas Cowboys or any NFL team about the state of their draft board, they'd probably respond "it's set" or "our board doesn't change." But they'd be lying. ...
March 4, 2014
NFL free agency is right around the corner, and although they won't be major players due to salary cap restrictions, the Dallas Cowboys will still be active. The Cowboys' primary concern ...
February 11, 2014
Wide receiver Dez Bryant is the most valuable player on the Dallas Cowboys not named "Tony Romo," and it isn't even close. With all of the salary-cap trouble the Cowboys ...