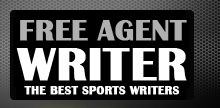 Yankee Addicts
Categories
Featured Sponsors
News published by
January 9, 2013
Tuesday evening, Rob Ryan was given his walking papers by the Dallas Cowboys (Courtesy ESPN Dallas). Jason Garrett released a statement wishing Ryan the best of luck—adding that the Cowboys ...
November 21, 2012
Six games remain in the regular season.  The tea leaves have not decided yet whether the Dallas Cowboys will continue into January or head home to ponder how another season ...
October 24, 2012
The 'Cardiac Cowboys' struggled through only the sixth game of the year, but it is never too early to start thinking about the free-agent market for the 2013 Dallas Cowboys.  ...
October 20, 2012
In this case, enough is enough. Tony Romo, quarterback of the Dallas Cowboys, has received his fair share of scrutiny from multiple sources on multiple occasions. The most recent article, ...
September 29, 2012
This upcoming Monday night, Cowboys fans get the pleasure of hearing "Chucky" (Jon Gruden) and "JAWS" (Ron Jaworski) commentate against the Bears on a national stage.  Lots of lingering injury ...
September 19, 2012
Sunday reminded Cowboys fans what a bad taste in the mouth is like.  After 11 days of over-exaggeration on opening day, reality creeps in and they realize that the stars ...
August 5, 2012
Since 2007, Dallas Cowboys quarterback Tony Romo has been the subject of much deserved (and undeserved) scrutiny, along with most quarterbacks in the NFL.  With the silver and blue star ...