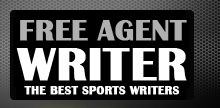 Yankee Addicts
Categories
Featured Sponsors
News published by
April 10, 2011
 Leading up to the draft, it seems as though every other day some type of new mock draft gets posted on this site. How many times do we need to ...
March 7, 2011
 When the 49ers started the season 0-5 last year, I thought it was bittersweet. I knew the season was over, but in the back of my mind I thought at ...
June 13, 2010
Forget predicting the record for the 2010 season. I could put anything from 6-10 to 11-5 and probably be able to argue my point. You never know how the league ...
April 6, 2010
Well, the McNabb question is no longer a question, so that means Singletary's quasi-endorsement of Alex Smith still stands. Smith, having the same O-coordinator going into consecutive seasons for the ...
March 25, 2010
I'm going to talk about some things that may unease some 49er fans. In light of the recent "McNabb trade talks v 8.0" I've decided to spitball some possible scenarios where ...
March 21, 2010
Almost seemingly out of the blue, an otherwise "stable" 49ers front office has been thrown into controversy yet again. 49ers GM Scot McCloughan has been put on an extended leave ...