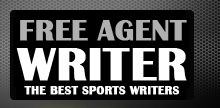 Yankee Addicts
Categories
Featured Sponsors
News published by
February 7, 2011
For a moment there, it felt as if the Pittsburgh Steelers were in position to manufacture another breathtaking comeback for the ages on one of the momentous national holidays in ...
February 4, 2011
For Aaron Rodgers, the 27-year-old blistering-hot quarterback who has reached a crescendo and now in his first ever Super Bowl appearance, this would be the recent installment to possibly the ...
January 29, 2011
When Roger Goodell finally does care to save the NFL from itself, enforces a convenient policy that pacifies owners and players, declares a consensus rule and caters entirely to the ...
January 22, 2011
If there's a villain in Chicago, hailed as one of the passionate sports towns in America where the masses gather in the local bar or even crowds Lou Malnati's Pizzeria joint ...
January 14, 2011
We all have flashbacks on moments when rivalries in sports came alive, moments we espoused the antipathy involving a pair of teams unable to stay above the fray and maintain ...
December 29, 2010
On Monday, he arrived in front of the press with a helpless look on his face, unsure how to amend from the downcast era of woeful collapses in a year the ...
November 1, 2010
The moment the defending champs escaped futility, on a night inside the loud and energetic Superdome, the Saints embraced an imperative win to keep aspirations alive. On this night, the ...
October 12, 2010
He's obviously the diva queen in the NFL, always involved in an unnecessary saga with hyperbolic drama creating a lingering debate. The convenient amenity of aspiration in Minnesota, a cultural ...
September 23, 2010
A lot of us raised our eyebrows at the recent news coming out of Philly, at a time when desperate times calls for desperate measures, at a time when the ...
September 20, 2010
For a moment, the world laughed at the New York Jets, one of the most appealing franchises in the NFL labeled as the most overrated franchise, based on its abysmal ...