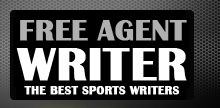 Yankee Addicts
Categories
Featured Sponsors
News published by
February 18, 2016
The NFL offseason is a unique time of the year when every team feels optimistic about its chances in the coming season. Several teams feel they are only a move or ...
February 10, 2016
While Super Bowl 50 didn't live up to all the pregame hype, it did teach us once again that defense wins championships. Or at the very least, defense helps win ...
January 29, 2016
Any team that makes it to the Super Bowl is likely to have many more strengths than weaknesses, otherwise they wouldn't find themselves in the biggest game of the year. Still, ...
January 25, 2016
No, this isn't a list of the best turnovers forced by the Carolina Panthers (sorry, Arizona Cardinals fans), but rather a compilation of what Sunday's conference championship games taught us ...
January 20, 2016
And then there were four. That's right, just four teams remain in contention for the Super Bowl, and you better believe it's going to be fun when we get started ...
January 15, 2016
We're down to the final eight teams in contention for the Super Bowl, which means each week brings more compelling action for the fans. It also means plenty of opportunities ...
January 8, 2016
It's finally that time, football fans! The NFL's Wild Card Weekend is here, which means meaningful games for some fanbases, and the beginning of a long offseason for others. For those ...