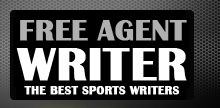 Yankee Addicts
Categories
Featured Sponsors
News published by
February 12, 2012
The San Francisco 49ers put on a show over the 2011 season and followed it with a strong playoff run against not one, but two very difficult opponents.If not for ...
April 22, 2011
Can you imagine having Cam Newton and Tim Tebow on the field at the same time? It is perhaps the most unlikely scenario this offseason, and it makes very little sense ...
April 1, 2011
The 49ers might get crazy with it this year. Moves that may even get booed by fans on draft weekend are not out of the realm of possibility.In the goofy ...
March 25, 2011
Mock-mock! Who's there? Seven rounds of time-wasting, headache-inducing, nearly laughable speculation. That's who!It's mock-draft season, and since there's only still another whole month until the draft, I guess it's time ...
March 3, 2011
Alex Smith's hands measure 9.375" long. Although this isn't a ridiculously tiny measurement, it has (at times) been blamed for the first overall pick from 2005's tendencies to fumble over ...
January 6, 2011
The Miami Dolphins seem to have stolen the leviathan most 49ers fans believed their team had hooked. Jim Harbaugh is being wooed by the Miami Dolphins with a sum of ...
December 22, 2010
If the 49ers lose to the Rams Sunday, it's over. All the way over. Not the franchise as we know it or anything, but the team's hope of an NFC ...
November 16, 2010
Joe Staley is out four to six weeks with a broken leg, according to Daniel Brown of the San Jose Mercury News. Although this is not indicative of certain doom for ...
November 1, 2010
Randy Moss was waived by the Minnesota Vikings today, less than a month after being acquired from the New England Patriots. The 49ers offense has been nothing short of disappointing ...
October 29, 2010
The 49ers are in London preparing to take on the Denver Broncos this Sunday at Wembley Stadium.While the 49ers are 1-6 after losing to a previously un-victorious Carolina ...