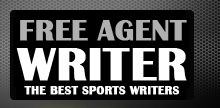 Yankee Addicts
Categories
Featured Sponsors
News published by
March 25, 2011
One of the biggest questions facing newly hired Executive VP of Football Operations John Elway and head coach John Fox is what to do with Tim Tebow."Tim came in and ...
March 11, 2011
After coming up short, the Houston Texans and San Fransisco 49ers are among the teams that are ready to make a push to the NFL postseason in 2011.A few offseason ...
February 7, 2011
Although they made it it Super Bowl XLV, the Pittsburgh Steelers came up just a little short against the Green Bay Packers.The Steelers were unable to dig themselves out of ...
January 24, 2011
Super Bowl XLV will feature a historical matchup of the Green Bay Packers and the Pittsburgh Steelers. Although these two teams are cornerstone NFL franchises, they will be facing one another ...
January 24, 2011
Ben Roethlisberger of the Pittsburgh Steelers may never lead the NFL in passing yards or win a MVP trophy.  But despite these facts, he may find himself in the company ...