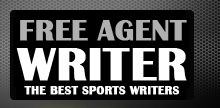 Yankee Addicts
Categories
Featured Sponsors
News published by
December 29, 2010
This has been a very, very interesting season. The Raiders have improved in quite a few areas this year and have fallen back in some, but overall, I think this ...
April 26, 2010
For football fans, the offseason is long and tedious. We are provided with two pacifiers: the NFL Combine and the NFL Draft.   For Oakland Raiders fans these pacifiers are a time ...
April 24, 2010
Is this really happening? There is something different in the air this year. The Raiders have been patient, calculating, and more importantly, they have been making the moves necessary to ...
April 17, 2010
This will be the final mock that I will do before the draft unless there is a big trade. The Raiders have completed their big board and are ready to ...
April 8, 2010
It is finally over, Donovan McNabb has been traded. The thing is he has been traded to the Washington Redskins. For a lot of the Raider Nation this was disappointing. ...
April 1, 2010
You cannot look at a sports page or web site and not find the story about the Oakland Raiders trading for Donovan McNabb. This is one of the most interesting ...
March 31, 2010
The combine is over. Free agency is here but the Raiders have been pretty quiet. One trade for an Outside Linebacker. The time has come for Mr. Davis to ...
March 25, 2010
Defense – the act or action of defending <the defense of our country> 2: capability of resisting attack b: defensive play or ability <a player/team known for good defense> 3: ...
March 10, 2010
The NFL Combine is behind us and it was very interesting in many ways. There were a number of players that really showed what kind of athletes they are. We ...
February 21, 2010
The NFL Combine and Draft are fast approaching. We are all waiting to see how these guys will preform and what team will draft them. With this in mind, I ...