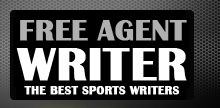 Yankee Addicts
Categories
Featured Sponsors
News published by
April 23, 2011
The 2011 NFL Draft is now less than a week away, giving us die-hard football fans a glimmer of light amidst the darkness of the NFL's enduring lockout. Every ...
March 15, 2010
Now that the free agency storm has subsided, the 2010 NFL Draft has a completely different look. Instead of speculating as to what each team will do, this mock draft series ...
February 26, 2010
Every spring, hundreds of mock drafts are thrown about in an attempt to predict what the big boys running the NFL's 32 teams will do when the NFL Draft finally ...
February 26, 2010
Leading a big-time college football program to multiple BCS bowls and racking up personal accolades along the way is great...in college. This type of success doesn't guarantee pro success, though—ask ...