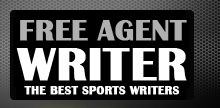 Yankee Addicts
Categories
Featured Sponsors
News published by
August 29, 2010
The Raiders had an up-and-down game vs. the 49ers. Here are a few observations:   Offense 1) Jared Veldheer looked decent for his first start He was much better in pass blocking, but got out ...
August 13, 2010
The anticipation was mounting. The Raiders fans have read about all this improvement of the offense. We've heard about Darrius Heyward-Bey. Al Davis told us Jason Campbell was the next Jim Plunkett. The ...
August 10, 2010
I've read around three or four articles in the past few weeks telling us Raider fans that we shouldn't get our hopes up. The problem is that those articles don't provide ...
August 7, 2010
When Al Davis makes a draft pick, he usually looks at this one quality: potential. Al Davis' problems have stemmed from not finding a consistent quarterback, making horrible free agent signings, ...
August 5, 2010
This is a somewhat brief article. I find it very interesting that ESPN sent Mortensen do go to Raiders camp. The thing I'm most looking forward to tomorrow is if Al ...
August 1, 2010
I want to begin by giving a thank you to Kirk Morrison. He let it all hang out there week after week, and I think Raider Nation appreciated that. However, Morrison was ...
July 31, 2010
The biggest addition by subtraction was the release of JaMarcus Russell. Russell was a cancer to this team. Looking back to the Jets game, it was one of the worst ...
July 28, 2010
Hey Raider Nation, if you didn't get to see Tom Cable's press conference, these are the highlights: -Jason Campbell is officially the starter. Bruce Gradkowski is not ready yet. -John Henderson is ...
July 22, 2010
This year, there is a newfound optimism in Oakland. This is an effect of the JaMarcus Russell release, and Jason Campbell's arrival. With every team, there are questions. Last year, the ...
July 4, 2010
Today, the subject is the Detroit Lions. To everybody who has been following this series, I will be out this next week on vacation. I will resume with the Green Bay ...