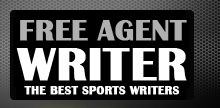 Yankee Addicts
Categories
Featured Sponsors
News published by
December 12, 2015
It's time to put up or shut up for the Pittsburgh Steelers as they head into Sunday's Week 14 showdown with the Cincinnati Bengals at Paul Brown Stadium. At 7-5, the ...
December 7, 2015
Well, that turned out much better than expected for the Pittsburgh Steelers, namely Antonio Brown. Brown, James Harrison and the rest of the Steelers put on a show, dismantling the ravaged ...
December 5, 2015
Despite taking different paths to 6-5 and having to shuffle between the starting quarterback and backup quarterbacks due to injuries, the Pittsburgh Steelers (6-5) and Indianapolis Colts (6-5) come into ...
November 14, 2015
If there were ever a game where strengths of the Pittsburgh Steelers played directly into the weaknesses of one of their opponents, it's Week 10 against the Cleveland Browns. Pittsburgh has ...
November 7, 2015
I never thought I'd see the day, but in Week 9 of the 2015 regular season the Oakland Raiders are in the top 10 of most offensive categories in a ...
October 31, 2015
It might not look like it on paper through seven weeks, but the Cincinnati Bengals and the Pittsburgh Steelers are two evenly matched teams heading into Sunday's 1 p.m. ET ...
October 24, 2015
Even with a first-time starter at quarterback and left tackle heading into Sunday's showdown with the Kansas City Chiefs, the Pittsburgh Steelers are feeling confident going into Arrowhead Stadium with ...
October 17, 2015
The Pittsburgh Steelers and Arizona Cardinals are all set for a big-time matchup Sunday at Heinz Field, where a familiar face will return to his old stomping grounds with a ...
October 2, 2015
Well, that was ugly. The Pittsburgh Steelers, who led for much of the game, handed the Baltimore Ravens their first victory of the season on Thursday, thanks to poor play-calling, sloppy ...
September 26, 2015
The big storyline heading into the Pittsburgh Steelers' Sunday showdown with the St. Louis Rams is the return of Le'Veon Bell to the black and gold after serving his two-game ...