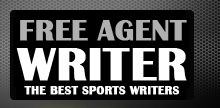 Yankee Addicts
Categories
Featured Sponsors
News published by
April 30, 2013
Sometimes it can be hard for rookies and veterans to work alongside each other in the NFL...but that wasn't the case for these guys.With the 2013 NFL Draft under way ...
January 8, 2013
With Wild Card Weekend behind us and the divisional round of the 2013 NFL playoffs upon us, it's time to take a look at the matchups that will decide each ...
November 19, 2011
Week 11 of the NFL season doesn't bring a lot of wide receivers who are going to torch their opponents, but these three all will. Numbers don't lie and they ...
November 12, 2011
The NFL season is entering its second half, and there are already teams whose playoff aspirations will end with losses.  These three teams all still have a chance mathematically, but ...
November 12, 2011
Week 10 is here and fantasy owners need to decide if they are going to start their quarterbacks or sit them.  These three quarterbacks have made names for themselves, but ...
October 15, 2011
If you're looking to make some easy cash, try betting on these games that will be closer than the spread. Week 6 of the NFL season is here, and that ...
October 15, 2011
Week 6 of the NFL season brings with it four highly anticipated matchups that we can't wait to see.  Whether it's because the game has playoff implications, it showcases a ...