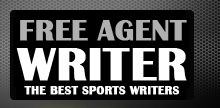 Yankee Addicts
Categories
Featured Sponsors
News published by
July 13, 2010
Contrary to what Pittsburgh columnist Gene Collier has suggested through the NFL Network , the Pittsburgh Steelers will win more than six games in 2010. They will, in fact, win ...
July 11, 2010
Pittsburgh sports personality Gene Collier has claimed the Pittsburgh Steelers will only win six games this upcoming season. He sites the absence of traded WR Santonio Holmes and injured guard ...
July 9, 2010
In a recent segment of "NFL All Access" on NFL Network, Pittsburgh Post Gazette Columnist Gene Collier said that the Steelers are set to win a grand ...
March 17, 2010
For the last decade and a half, the Pittsburgh Steelers have run their organization with an almost flawlessly consistent business protocol. They let their aging veterans go and replenish ...