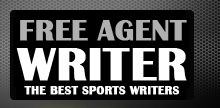 Yankee Addicts
Categories
Featured Sponsors
News published by
April 27, 2010
The focus right now is predicting how the players from the 2010 NFL Draft will fair, come this September. But who are the college athletes that stayed in school this ...
April 19, 2010
I've kept quiet for so long that many of my buddies and co-workers have asked me if I am actually going to do a mock draft this year. Does this mean ...
March 10, 2010
I hold onto them dearly like a child who has been injured, but the reality is, the Detroit Lions give me more heartburn than a giant plate of nachos ...