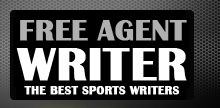 Yankee Addicts
Categories
Featured Sponsors
News published by
July 27, 2010
Did everyone hear Rivers' comments over the weekend? Here is the quote: "Those are two key guys on our offense," said Rivers of Jackson and McNeil. "I don't think there's any way ...
February 21, 2010
Bill Polian recently commented that no team will ever do what the Bills did in the early 90's: Four back-to-back Super Bowl appearances. Polian may be right, but the Colts are ...
January 10, 2010
With Peyton Manning winning his record-setting fourth MVP in a season where it seemed like he or the Colts set a record in every game they played, it's becoming harder ...