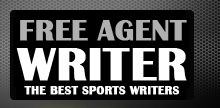 Yankee Addicts
Categories
Featured Sponsors
News published by
June 14, 2014
With an ankle injury to 2013 first round draft pick D.J. Hayden shining a light on their noticeable lack of depth at cornerback, the Oakland Raiders have a need for a ...
February 22, 2011
When the Oakland Raiders first traded their 2011 first-round draft pick to the New England Patriots for Richard Seymour, many people were skeptical. Not of Seymour, who has been one of ...
December 4, 2010
So the Raiders, having won four of their last five games and three in a row heading into the bye, had some momentum and looked better than they had in ...
November 27, 2010
Well, that was ugly. From the pass defense to Richard Seymour's smack to the entire offensive unit, the Raiders played very badly last Sunday against Pittsburgh.Going into Heinz Field against ...
September 15, 2010
Okay, so we all know the Raiders fell flat on Sunday. The offense stagnated largely due to a lack of effective blocking by the offensive line, Jason Campbell had a ...
September 8, 2010
Well the preseason is now over, with the Raiders posting a respectable 3-1 record, the only loss being against the hated San Francisco 49ers via a touchdown in garbage time.Although ...
June 23, 2010
Take a good look at the picture on the right. From the player in the photo to his hangdog expression, it is endemic of the Raiders' issues for the better part ...
May 20, 2010
The Oakland Raiders have been known to make a mistake or two in recent offseasons, so it should be no surprise that the coaching staff, players, organization, and fans in ...
May 6, 2010
While it comes as no surprise that the Oakland Raiders have (according to a team spokesman via the blog by Jerry McDonald at www.ibabuzz.com/oaklandraiders) released JaMarcus Russell, it does come as ...
April 29, 2010
First point: Goodbye, Kirk. We will miss you. You exemplified what a Raider should be, you always gave your all, you wore your heart on your sleeve, and you were ...