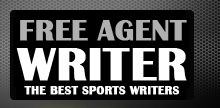 Yankee Addicts
Categories
Featured Sponsors
News published by
August 6, 2011
  The Pro Football Hall of Fame inducts their 2011 class today. Washington Redskins legend Chris Hanburger, a senior nominee, finds himself joining the heralded walls of Canton. Some of you may recall ...
April 21, 2011
As the 2011 NFL Draft approaches, some fans like to do mock drafts. I am one of those fans. Unlike the past three years, I will be unable to do ...
April 19, 2011
The Pro Football Hall of Fame is not just built by drafted players. There is a plethora of gridiron legends representing the building that found their way onto teams in ...
April 13, 2011
Being called a clubhouse cancer does not mean losing will follow. History has shown malcontents like Mark Aguirre, Dennis Rodman, Alex Rodriguez, Plaxico Burress and many more hoist championship trophies. ...
April 7, 2011
John Clay, known as "Gumby" to his teammates, went to the University of Wisconsin-Madison in 2008 as one of the most heavily recruited running backs in the country. He became just ...
April 1, 2011
The Washington Redskins head into the 2011 season with more holes than a slice of Swiss cheese. One of the biggest holes may be at quarterback, especially considering how the ...
March 30, 2011
When the American Football League began to take shape in 1959, Barron Hilton decided to give the AFL a franchise in Los Angeles. The Chargers were one of the top ...
March 26, 2011
The United Football League started operations in 2009, becoming America's first alternative to the National Football League since 1987. While the UFL has no connections to the NFL, some in ...
March 24, 2011
Isiah Robertson6'2" 225LinebackerLos Angeles Rams 1971 - 198212 Seasons168 Games Played25 Interceptions15 Fumbles RecoveredFour TouchdownsSix Pro Bowls1971 Defensive Rookie of the Year   Isiah B. Robertson was a first-round draft choice by ...
March 19, 2011
When the Los Angeles Rams took a flier on wide receiver Drew Hill in the 12th round of the 1979 draft, they knew they were getting a 5'9" player with excellent ...