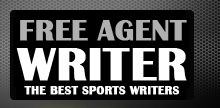 Yankee Addicts
Categories
Featured Sponsors
News published by
April 19, 2016
Rex Ryan might be "just" a football coach, but he was a two-time championship-winning football coach with the New York Jets.That is, according to Donald Trump.The Buffalo Bills head coach ...
April 1, 2016
Tom Brady called, and Rob Gronkowski came running...with mischievous plans.The New England Patriots tight end pulled off a masterful April Fools' Day prank Friday after catching Brady slipping—err, napping—by sliding the ...
March 8, 2016
Denver is "Omaha" country.The Denver International Airport paid tribute to Peyton Manning on Monday following the quarterback's retirement, writing "P. Manning" on the marquee of Gate B18—a tip of the ...
March 5, 2016
Derek Carr found himself in the wrong neighborhood Saturday.The Oakland Raiders quarterback was in the car with his wife and son when the family came across a street named "Forty ...
February 20, 2016
Just call him Tony Toe Tap.Antonio Brown made an appearance at the UFC Fight Night 83 weigh-ins on Saturday, and he took to the scale.The Pittsburgh Steelers wide receiver weighed in ...
February 2, 2016
The NFL Network brought out the A-Team for its Super Bowl 50 Opening Night coverage.And the star of the show? Austin Denton, a 14-year-old cancer survivor, who had his dream ...
February 2, 2016
Cam Newton: full-time NFL quarterback, part-time rapper.The Carolina Panthers star treated media to a freestyle rap at Super Bowl 50 Opening Night on Monday, dissing the crop of reporters with ...
February 2, 2016
We are one night into Super Bowl 50 week, and Josh Norman has already won it all.The Carolina Panthers cornerback met his media responsibilities on opening night wearing a custom Luchador ...
February 2, 2016
Aqib Talib enjoys the finer things in life, like wrist watches worth as much as a small home in middle-of-nowhere America. The Denver Broncos cornerback showed off his iced-out Rolex to ...
January 29, 2016
Consider Jerry Rice a witness.Odell Beckham Jr. did his usual flexing at a Pro Bowl practice on Friday, leaving arguably the best NFL wide receiver of all time with no ...