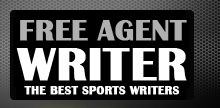 Yankee Addicts
Categories
Featured Sponsors
News published by
May 21, 2011
Do I even have to say Donovan McNabb isn't going to be back in Washington next season?At this point, it's a lot like saying "water is wet." It's such a ...
April 14, 2011
It's the height of draft season, ladies and gents. We are only a few short weeks until the 2011 NFL draft takes place, and the Redskins faithful can look at ...
March 30, 2011
There was a time when the only good thing Redskins fans could talk about was their defense. While the offense sputtered, the coaches tried to maintain order and the front ...
March 25, 2011
No lies; the Redskins have holes in their receiver core. Holes that can't be ignored, can't be put off, and can't be shrugged off.But are they as big as you ...
March 24, 2011
Saying that the Redskins have a lot of holes to fill in the draft and through free agency is sort of like saying "water is wet" or "the sun is ...
March 8, 2011
Reading other people's mock drafts is funny when you're a Redskins fan.It seems nearly every mock draft has the Redskins selecting Auburn quarterback Cam Newton in the first round. The ...
March 7, 2011
What a week.The latest batch of NFL prospects have dashed, jumped, thrown, caught, rushed and worn funny t-shirts with giant Iron Man-esque chest pieces all week, and have been dissected ...
January 23, 2011
With over three months left until the 2011 NFL Draft, the networks have started to ramp up their speculation, the East-West Shrine Game and the Senior Bowl are right around ...
January 18, 2011
There's not much more to do with the NFL but speculate.From a Redskins perspective, the 2010 NFL season has all but come to an end. The NFC and AFC Championship ...
January 1, 2011
As another disappointed season winds down in Redskins Nation, there are only two things Redskins fans can take solace in; one, that's it'll be over, and two, that the off-season seems to ...