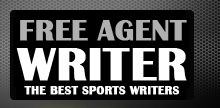 Yankee Addicts
Categories
Featured Sponsors
News published by
September 21, 2010
With now an apparent quarterback controversy in Oakland (what else is new,) it' hard to tell if the Raiders are in a Catch-22 (damned if you do, damned if you ...
June 7, 2010
I've been hearing rumors around the Raider camp fire about signing Flozell Adams and, I have to say, I couldn't agree less.  I know, the Raiders are in need on the ...
May 28, 2010
The Oakland Raiders are now seeking $9.55 million that JaMarcus Russell received in guaranteed money over his career. While already obtaining $36 million, he is still owed ...