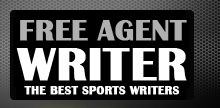 Yankee Addicts
Categories
Featured Sponsors
News published by
June 4, 2010
"I'm the best corner back in the NFL. I'm not just blowing smoke…film doesn't lie." A quote made by Nate Clements in 2005 to news reporter Jon Robinson. (See link ...
May 30, 2010
As a kid growing up, I had the pleasure of watching the San Francisco 49ers win five Super Bowls. From the beginning of this journey, there were always naysayers. People ...
May 18, 2010
Turn over, attrition and separation are all a part of every job in our society. The National Football League is no different. In come the new, and out go the ...
April 25, 2010
Coach Mike Singletary! That has a nice ring to it! Say it with me one more time, "Coach Mike Singletary!' Well coach you have done it this time. It seems ...
April 2, 2010
  It is my opinion that San Francisco 49er head coach Mike Singletary has done a good job of turning around the mentality of the young 49er team.  People have noticed the ...