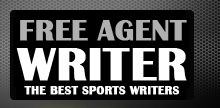 Yankee Addicts
Categories
Featured Sponsors
News published by
December 27, 2010
The Atlanta Falcons are in for a surprise on Monday night in the Georgia Dome; especially if they expect to see the same New Orleans Saints that handed them the ...
November 20, 2010
Despite being defending Super Bowl Champions, the New Orleans Saints did not start the season holding the consensus #1 ranking.  Despite Drew Brees' masterful Super Bowl MVP performance, completing 32 of ...
June 9, 2010
People seem to be patting themselves on the back when boldly making the claim that there's no way the Saints can repeat. Well, that's not actually brave at all. In fact, ...
January 9, 2010
  On this first day of the NFL playoffs, it seems the New Orleans Saints have disappeared into the landscape.  But instead, they're enjoying their hard earned week off. Despite having ...