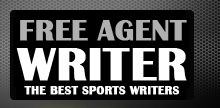 Yankee Addicts
Categories
Featured Sponsors
News published by
July 16, 2011
I remember watching Reggie Bush in college and thinking to myself, "I have to find a way to get him on my dynasty league squad."  Bush was a transcendent talent—a ...
July 16, 2011
We at DLF pride ourselves in studying the nuances of dynasty leagues.  We study players, trends, stats and strategies in order to give the very best advice we can to ...
June 25, 2011
It's no secret that if you wish to be competitive in your league, you can't ignore that the receiver position is critical for your ultimate success. Whether in your initial ...
February 14, 2011
Fantasy football has come and gone, and most owners are hibernating for the Winter. After all, they think spending time in the offseason isn't worth the trouble. They're wrong. Most ...
February 11, 2011
Sometimes life can simply be cruel. Such is the case with talented youngster Demaryius Thomas, who ruptured his achilles tendon on Wednesday. Some dynasty league owners may think it's just ...
February 5, 2011
Some of the hottest topics in the free DLF Forum tend to revolve around "this guy vs. that guy" debates. Choosing who to target or keep between different players is one ...
January 22, 2011
In the land of dynasty, much of our time is being spent tinkering with our rosters a few final times before the draft comes in April.  We provided you with ...
January 21, 2011
Fantasy leagues are over for 2010, so many owners have left their rosters and plan to take an extended break until around August. These are likely the losing owners in ...
November 30, 2010
The playoffs are approaching quickly and we're getting into some must-win weeks for many dynasty league owners. In a year full of surprises, Week 12 didn't disappoint. Week Twelve Fantasy MVP Once is a ...
November 14, 2010
The fantasy season is halfway done and some coaches are already looking forward to next season. With that in mind, we begin a series of articles that take a look ...