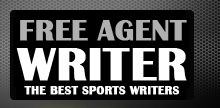 Yankee Addicts
Categories
Featured Sponsors
News published by
February 7, 2011
The Green Bay Packers ruined Ben Roethlisberger's redemption story. At the end of the day, that is the way the fairy tale should have ended. In the days leading up ...
April 29, 2010
What do Dez Bryant, Toby Gerhart, and Myron Rolle all have in common? There were all exposed to the modern-day slave auction that the National Football League pre-draft festivities has become. Strong ...
April 27, 2010
Now that the 6.8 earthquake known as the NFL Draft is over and the subsequent aftershocks of reaction to the 255 selections has died down, something is not quite right. I ...
March 3, 2010
Rumor has it Chicago Bears tight end Greg Olsen is not pleased with the prospect of performing in Mike Martz's newfangled offense come 2010 and wants to be traded. If that ...
February 18, 2010
Maybe Oakland Raiders owner Al Davis is on to something in making Sebastian Janikowski the NFL's highest-paid kicker. With Janikowski signing a record four-year, $16 million deal, it forces the football ...