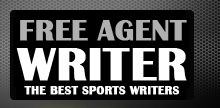 Yankee Addicts
Categories
Featured Sponsors
News published by
March 21, 2015
The NFL veteran combine is on Sunday, and seeing as it's a new event on the NFL offseason calendar, there's really no telling how it will impact the draft. It's likely ...
February 10, 2015
Now a week removed from Super Bowl XLIX, the focus of the NFL is almost entirely on the 2015 NFL Draft. While not until April, the draft is worth analyzing immediately. ...
January 31, 2015
The Super Bowl can be a lucrative sporting event for bettors given the variety of prop bets out of Las Vegas. Prop bets, by nature, are so unpredictable that they are ...
January 31, 2015
The Super Bowl wouldn't be the Super Bowl without a star-studded halftime show. Thankfully, one of the biggest stars in the world will take the stage at University of Phoenix ...
December 6, 2014
For many fantasy owners, Week 14 represents the last chance to make the right calls and inch into the playoffs. After a long season of waiver-wire pickups, trades and analyzing matchups, ...
July 26, 2014
Gambling on a rookie can be the difference between a finish in the playoffs and a finish at the bottom of your division in fantasy football. It's difficult to trust rookies. ...
July 26, 2014
The future is now for the Cleveland Browns. When the Browns selected Johnny Manziel with the No. 22 pick of the 2014 NFL draft, speculation immediately began regarding when he would ...
July 26, 2014
Capitalizing on breakout stars is the ultimate way to ensure that you'll win your upcoming fantasy football league. Anything can happen in fantasy football. First-round stars might get injured, rookies often ...
July 26, 2014
We're still a ways away from the NFL regular season, but there's already plenty of football to talk about. Training camp is in full swing, and it's our first chance to ...
May 11, 2014
Day 3 of the NFL draft can be just as important as Days 1 and 2, and there are multiple teams that successfully scouted those players available in latter rounds ...